The construction industry has increased its use of wood significantly in recent years.
Wood is a sustainable and renewable resource, and when used in construction, it emits only about one-third of the CO2 produced by concrete construction. In addition to being environmentally friendly, wood also offers a comfortable indoor climate and has an aesthetically pleasing appearance. However, there can be challenges with wood as it is a living natural material and can be affected by factors such as moisture.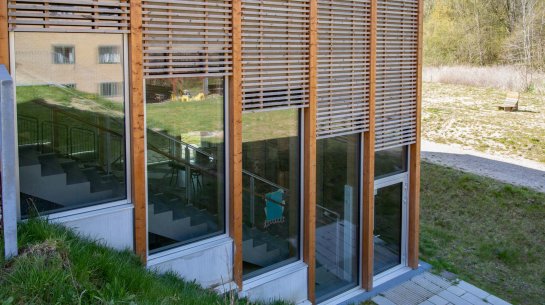 Wood where it makes sense
It is important to consider the context in which wood can be used. Wood resources should be used sensibly, avoiding overconsumption of materials. A more sustainable approach to construction, therefore, involves not only building with wood but also optimizing construction in relation to other sustainable strategies.
This can include building smaller, more flexible structures, efficiently utilizing every square meter, optimizing material use, recycling materials, renovating existing buildings, and considering the functional and cultural relevance of construction for users and society.
By considering these factors, the construction industry can ensure a more environmentally, socially, and economically sustainable building.
The combination of wood and aluminum in the facade has proven to be a good solution
If the structural framework of a construction project is made of wood, it is important to close the building quickly to avoid exposure to wind and weather.
In this context, it can be a good idea to choose weather-resistant inorganic materials for the facade closure that can withstand the Danish climate.
In the long run, combining wood with recyclable materials such as aluminum can be both economically and environmentally advantageous since aluminum has high recyclability both as a raw material and as a facade material.
Additionally, aluminum has a long lifespan, providing an advantage in lifecycle assessment. Furthermore, the recycling of aluminum only emits 5% of the CO2 used in primary aluminum production. 75% of the aluminum produced throughout history is still in use.
Minimal maintenance ensures good overall economy
In addition to routine cleaning for aesthetic reasons, both raw and treated aluminum require no maintenance, resulting in a significant cost advantage over the product's lifespan.
Maintenance-free properties guarantee unlimited use and the possibility of reliable cost analysis throughout the service life.
In certain cases, the use of inorganic materials in combination with wood can, therefore, be the most sustainable solution.
HSHansen in Denmark has participated in several projects where a beautiful combination of wood and aluminum has been achieved for facade closures. Most recently, this has been applied in the expansion of International Peoples College in Helsingør, designed by Urban Power, and the Cobot Hub in Odense, designed by 3xn and Artelia.