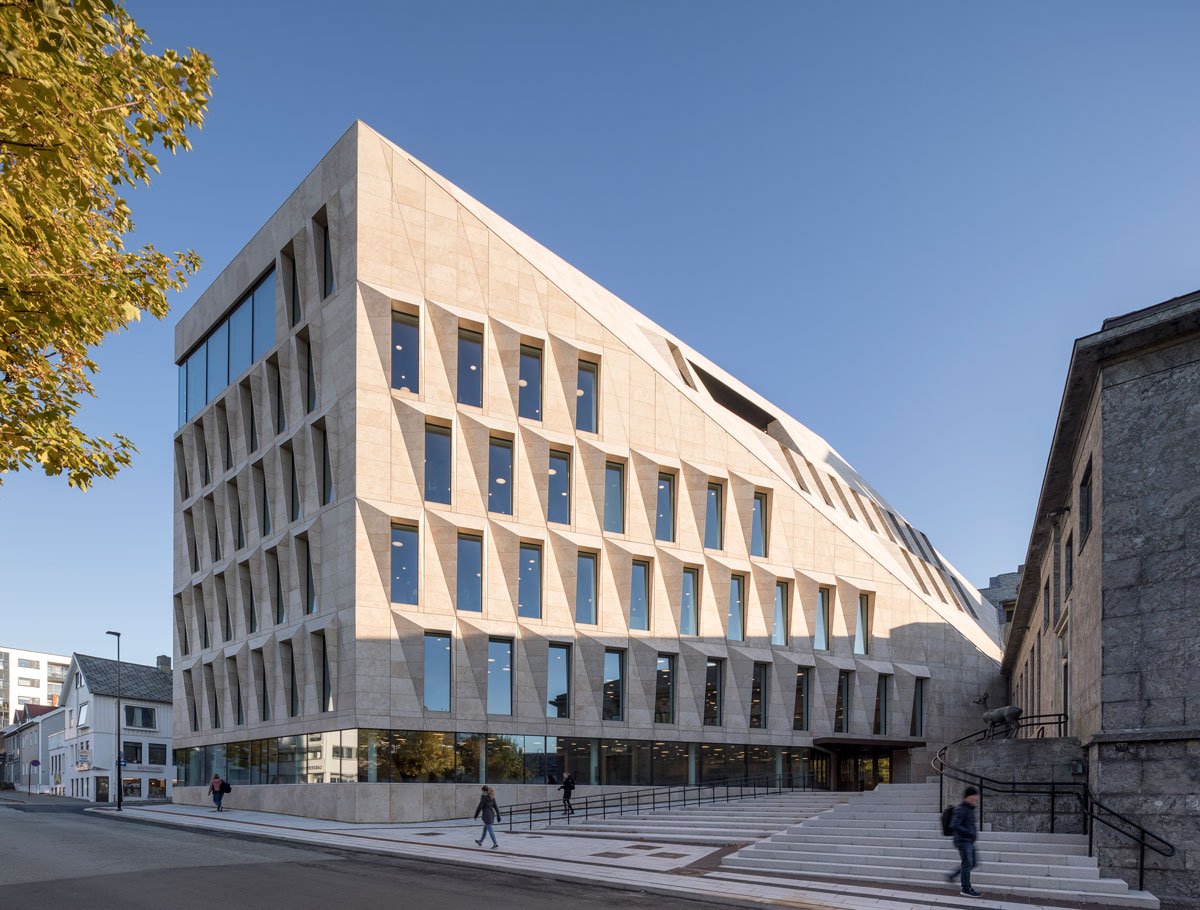 Drag
Back to solutions
Unitised Engineering
Hansen UnitAl®
Hansen UnitAl is a prefabricated unitised curtain wall system with endless design possibilities for quick closure of the building envelope.
Prefab moves hours from the building site to a controlled environment and results in significantly shorter on-site construction time.
Contact
Hansen UnitAl is a unitised curtain wall system for quick closure of the building envelope.
Record-fast closing of facades can significantly shorten the total construction time of the building. For smaller cases, standard profiles are often used, while larger cases may include newly developed profiles, where the client and architect can make their mark on the profile geometry.
It is possible to design the modules with both transparent and infilled areas or transparent panels with glass thicknesses from 4-73 mm.
The fillings contain wind plate, insulation and a vapor seal. The transparent areas can be both fixed glazing and opening vents or a combination of both.
On the outside of the facade system, architectural elements can be built in the form of e.g. stone, aluminum cladding or sun shading.
HansenUnitAl elements are usually produced in a width of 3,000 mm for transport, while the height often corresponds to 1 or 2 times the floor height. With the right planning and execution, approx. 400 m² full finished facade per. working day.
In the event of a requirement for a reduced climate footprint, HSHansen can supply aluminum profiles produced using renewable energy sources. This special aluminum alloy reduces the CO2 emissions for the Hansen System Profiles by more than 75% compared to standard aluminum.
Optimal and uncomplicated interfaces / contract boundaries
Quick closed house = reduced construction time by up to 60%
Only one contractor on the facade closure
Fewer construction nuisances on the site, such as noise and dust
No interim closures
Heating during the construction period with insulated facades
High quality - items are prefabricated at the factory under controlled conditions that are not dependent on the weather and other contractors
No sandwich concrete elements (Smaller depth = less m² for wall / facade = larger interior area)
Sustainable construction process - time is moved from the construction site into production
Optimal planning & logistics for the construction project = high productivity which frees up valuable time for the client and other contractors
Larger finish = fewer defects
Minimum storage space on the construction site - delivery JIT
No elastic joints on the outside
Can record movements and difference theorems in main constructions.
No annoying scaffolding on the building for facade installation'
Small fitter staff- less strain on construction site and welfare facilities
Less coordination for construction management
Components such as solar cells, solar shading, natural stone, screen bricks, fillings can be built into the prefabricated elements from the factory
Construction
Elements span vertically between the floors. Elements are typically mounted in the top.
Design
Elevation width of the profile system is 72 mm. Profile depth between 160 and 310 mm. The system supplier HansenConcepts is ISO 9001 certified.
Profiles
The system is available in a number of profile designs, which can create different visual appearances of the facade.
Glazing range
52-71mm
Insulating zone
The profiles are insulated with a specially designed thermal break between the aluminium profiles. This breaks the cold bridge throughout the entire length of the profiles. Extra insulation of the rebate is optional. Variety: Hansen UnitAl is also found in a Structural Glazing (SG) system, where the glass is held by hidden fittings. For the visual appearance of the façade, the space between the two glass panes is jointed with silicone. Hansen UnitAl can be carried out in a flame retardant version (EI60).
Air permeability:
AE 1200
Water tightness:
RE 1200
Wind load classification:
Serviceability: 1600 Pa
Safety: 2400 Pa
| | | |
| --- | --- | --- |
| System | DoP | U-værdi |
| HansenUnitAl EI610 | - | 0,75m2K |
| HansenUnitAl 6 UA4025 Basic | 90_v6_U1Basic-2 | 0,75m2K |
| HansenUnitAl 6 UA4025 Plus | 90_v6_U1Plus-2 | 0,72m2K |
| HansenUnitAl 8 UA5013 Basic | - | - |
| HansenUnitAl 8 UA5013 Plus | 90_5013_Plus1 | 0,82m2K |
Most important for the use of a system like HansenUnitAl is that the facade is modular.
A number of criteria such as statics, drainage, transport and movements must be considered from the start.
HansenUnitAl - ACAD
HansenUnitAl - PDF
HansenUnitAl - REVIT
We specialize in project fitting and continuously develop new profiles. Often a system like HansenUnitAl will contain one or more new extrusions for a given project.
Projects using Hansen UnitAl®