HSHansen wins the closure contract at Steno Diabetes Center
In the period 2018-2020, the Capital Region of Denmark will build Steno Diabetes Center Copenhagen. It is Scandinavia's largest diabetes hospital and is being built next to Herlev Hospital.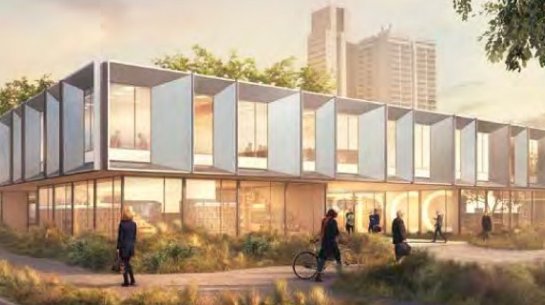 The new diabetes center was designed by Vilhelm Lauritsen architects and Mikkelsen architects.
The building is the framework for the modern diabetes center and is a total of 24,315 m² incl. parking basement.
It is expected to get approx. 60,000 annual patient visits and the center is intended for 360 full-time employees.
HSHansen has won the closing contract, which amounts to approx. 100 mio. dkr.
 "We are proud that we have now entered into the final contract, and we are very much looking forward to being part of the Steno project. With this contract, we show once again how strong we are in our internal food chain - from consulting, sales, development, design, production, assembly to service. We look forward to performing another task with the client's full satisfaction, "says Jesper Madsen, sales and marketing manager at HSHansen a / s.
HSHansen performs roofs and facades. The contract is carried out with the UnitAl concept, with which one has extensive experience. These are 100% prefabricated, inorganic facade elements. The concept gives the Client and the Architectural Degrees degrees of freedom with regard to architecture.
UnitAl is a unique product that increases efficiency, quality, finish and provides good overall economy. The concept has repeatedly contributed to faster closing of facades on complex buildings than first calculated. The great flexibility with the elements has also gained acceptance with more and more builders and architects.
 "We have experienced a positive and constructive collaboration with HSHansen. The process ran over a number of rounds in the bidding phase, and there was a close process with the competitors. We are completely satisfied that HSHansen won the case. The UnitAl concept makes HSHansen competitive in the tender phases of such projects. We have been in a close and inspiring dialogue with HSHansen throughout the process. Now we start together with Senior Project Manager for HSHansen, Carsten Dam Jensen, a "though" process to clarify a start-up process so we are ready for installation in the autumn "says Tonny Overkær Hansen, Chief Project Manager for COWI.
The planning is in full swing and HSHansen will begin installation in the autumn of 2019. The new diabetes center is set to be completed by the end of 2020.