HSHansen teams up with Technical University of Denmark (DTU)
HSHansen in Denmark has teamed up with Technical University of Denmark on project about sustainable facade solutions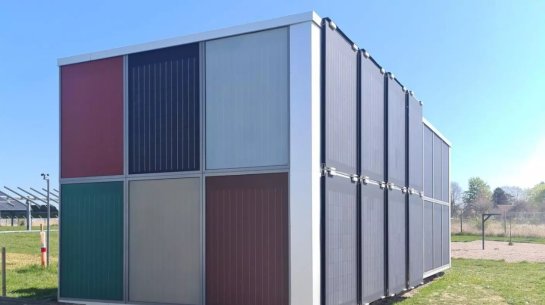 HSHansen a/s is the main player in an exciting project about sustainable facade solutions with new energy technology.
Since 2021, HSHansen has been working on the EUDP project called UnitSun with the aim of developing the world's most advanced solutions for prefabricated facades, which utilize all the advantages of prefabrication and ensure that large quantities of solar cells are implemented in construction.
The project, which has a total budget of 7 million DKK, is a collaboration between the Danish supplier of solar cells MG Solar ApS and DTU Fotonik (University of Technology) and runs until the middle of 2023.
In the project, HSHansen is working on further developing the HansenUnitAl system with a UnitSol product program where colored BIPV modules (Building-Integrated PhotoVoltaics) can be integrated into the prefabricated UnitAl modules.
The UnitAl system will thus be able to contribute to zero-energy building regulations.
Validation of solar cell efficiency
The main purpose of the project is to validate the efficiency of the solar cells when they are integrated into the facade. Additional solutions will be developed for the integration of the solar cells in the HansenUnitAl modules with a plug and play solution for connection to the grid.
In order to validate the effectiveness of the solar cells when they are mounted on the facade, a test setup has been set up at DTU with a total of 30 solar cell glasses mounted in or on Hansen UnitAl modules.
A milestone in the project has now been reached, as Henrik Olsen and Jørgen Nielsen from HSHansen have completed the installation of the HansenUnitAl modules in the test setup at DTU during the last few weeks.
Measurements of solar cell efficiency
The glasses with solar cells are mounted directly in a southerly direction for ordinary solar cells and in an east/west direction for solar cells with colored glass.
The effectiveness is closely monitored and the results will be disseminated when they are available in 2023.
"It is exciting to be part of the project and gain insight into a product such as solar cells, which is complementary to what we work with on a daily basis," says HSHansen's Department manager R&D, Pernille Brændstrup Kjær.
She continues: "We are used to focusing exclusively on how energy loss is reduced in our facade elements. But with the addition of the solar cells, we now have an element that can contribute electricity production to the building. It will therefore also be very exciting to receive the first measurements, so that we can start working on the best solution for integrating and cooling the solar cells to ensure the best performance."
(EUDP - short for The Energy Technology Development and Demonstration Program is a Danish subsidy scheme to support the path of new energy technologies to the market. The program supports both technology-specific projects with few participants and larger projects with several partners.)